For all of an organization's requirements, Portwell offers Computer-on-modules solutions. We have the processors you need, whether you need a high-performance, low-cost, or low-power processor. Computer-on-modules, sometimes referred to as COM express modules, COMe, or COMe boards, are highly integrated computer boards that include a CPU, memory, and common I/O including SATA, USB, Ethernet, audio, and graphics. The computer-on-module from Portwell supports QSeven, SMARC, COM-Express Extended, COM-Express Basic, COM-Express Compact, Type 6, Type 7 & Type 10. You'll find here all the aforementioned prerequisites. To find the ideal choice for the requirements of your company, browse through our collection of computer-on-modules boards right away or get in touch with us.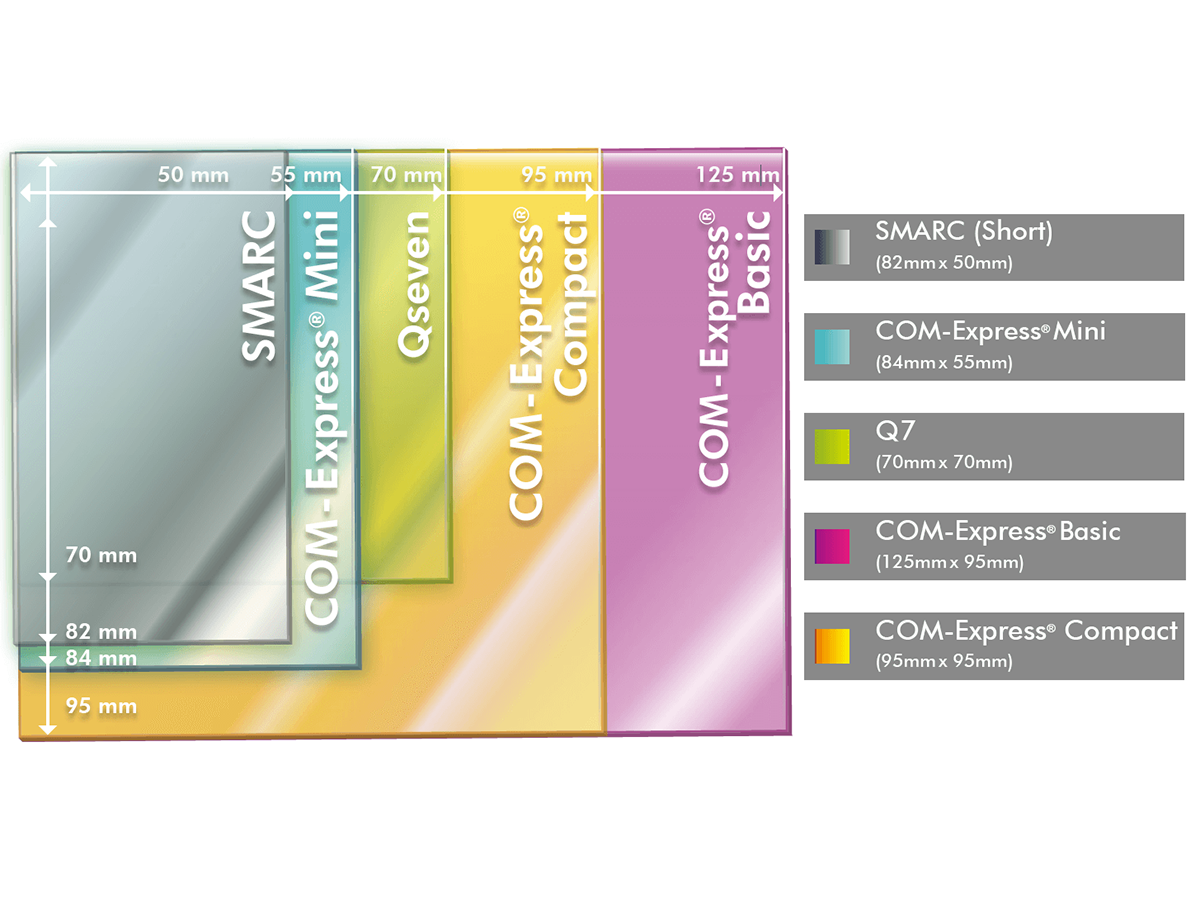 Various off-the-shelf core module with additional functionality that is required for specific applications
COM Express® defines standardized form factors and pin-outs for Computer-on-Modules. The standard includes the mini form factor (84 x 55mm), the compact form factor (95 x 95mm) and the basic form factor (125 x 95mm). To serve industry requirements, the Digital Display Interfaces (DisplayPort, HDMI) and super-fast USB 3.0 were recently added to the pin-out definitions for COM Express ® modules.
The SMARC ("Smart Mobility ARChitecture") is a versatile small form factor computer Module definition targeting applications that require low power, low costs, and high performance. Module sizes are defined: 82mm x 50mm and 82mm x 80mm with 314 edge fingers that mate with a low profile 314 pin 0.5mm pitch right angle connector.
This standard platform has been developed with performance and flexibility in mind, allowing various processor configurations to maximize passive cooling technology. With a maximum power consumption of around 12W specified in the standard, the new form factor is expected to appeal to manufacturers of applications that require fanless operation.